Post by oldsalfordian on Jan 4, 2017 17:47:10 GMT
Occupation: Foreman Builder
Birth: Melbourne, Australia
Attested 2/9/1914 (16th Manchesters) aged 22 years and 7 months.
Commissioned 30/10/17
Father: Charles Oldham, 55 Kearsley Road, Crumpsall
Married: Elsie Adelaide Norbury at St Matthews, Crumpsall (cannot find children)
Remembered on the St Matthews memorial
link
1901 census - nephew of David Oldham, Stapleton St, Pendleton.
1911 census - a visitor, aged 19, at 2 Claremont Road, Pendleton.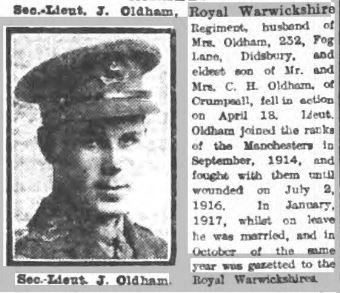 I think this
John Oldham
is the best candidate by far for our J. Oldham. Once again, thanks for bringing him to my attention, and thanks also for unearthing the fascinating history of the family, which begs the question, why on earth did they leave a successful life in Perth, Australia, to come back to Blighty, and cloudy, smokey Salford in particular?
John seems to have been the third of four children. I haven't found the family's passages out and in, but I did find the father and his second wife taking a sea cruise in 1928 to Lisbon, Madeira & the Canary Islands - he certainly must have been worth a bob or two. (His first wife, John's mother, had died in 1924.) If father was a builder and son John a 22 year old foreman builder, it could only have been in his dad's business. You have just posted a clipping about Harold Fielding, another guy on our memorial, and you can see that our School provided him with the foundations of a career in building, which strengthens the case for this being our John.
This John Oldham was commissioned, and of the 66 men I have identified for sure, 17 were officers - a quarter - and another 14 were NCOs.
So, I think the breakdown of the 74 is now 66 identified for sure, plus 5 strong candidates (James, Oldham, Richards, H Smith and Wood), leaving 3 mysteries (Evans, Roberts & Shepherd). I was still at the School when a fire destroyed all the pupil records. They had been so comprehensive and complete that they were consulted and used by university academics undertaking research into various aspects of education. I never dreamt then that over half a century later I would be cursing their loss.
Old Salfordian