Post by oldsalfordian on Dec 7, 2012 2:14:19 GMT
J Barbour.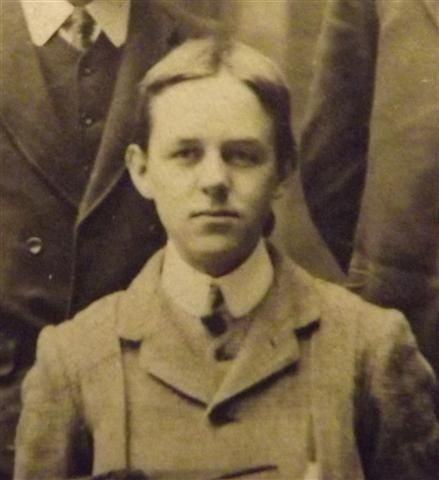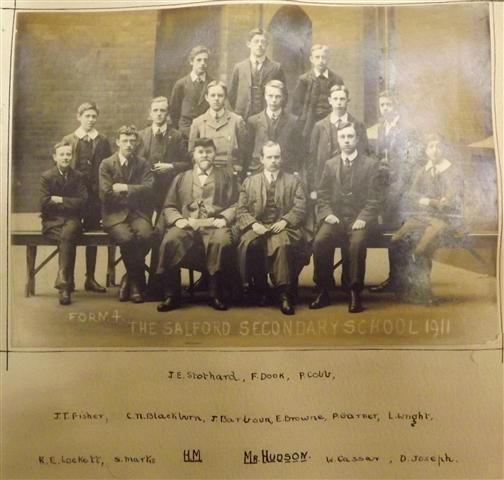 This is a brilliant photo, older by one year than any we have on the Old Salfordians' website. We would very much like it on our website. When it was taken the School was still sharing a building with the Royal Technical Institute on the Crescent, where our war memorial has hung since 2010. HM was the Head Master Mr. H B Knowles, who from 1904 to 1909 had been Principal of the RTI as well as our headmaster.
Mr Hudson, who had been appointed in 1908 and taught history, geography and music, is of particular interest. He enlisted in 1916 and applied to be accepted as a conscientious objector. Conscientious objectors were put in three categories: a) exempted military service absolutely, b) to perform a civilian service or c) to serve as a non-combattant in the army. The rest were forced into the army, which was his fate. He repeatedly refused uniform and orders, and spent the rest of the war (and more) in and out of prison, serving a total of two and a half years. He was unable to return to teaching in peacetime and went into politics, serving as an MP from 1923 to 1931 and again from 1945 to 1955. He was as committed to temperance as he was pacifism. He died in 1962 aged 80, and Harold Wilson visited him on his deathbed.
John Morton Barbour was born at Lytham, the son of a Scottish couple. He was one of two crewmen killed when HM Trawler 'Anthony Hope' hit a mine in the Channel off Le Havre on 16th Nov 1916. He was 21 and his body wasn't recovered.
L Wright was Leonard Wright. He came back to the School and was the School Secretary for many years. For decades he was the Secretary and/or Treasurer of the Old Salfordians' Association. I think he may have died in 1951.
All the pupil records from the School's foundation in 1904 to date, which were so detailed they were often used by academic researchers, were incinerated in a fire in 1963 which destroyed the headmaster's study and the secretaries' office. The School was abolished in 1973 and the school that inherited the building subsequently finished the job off by destroying the pupil records for 1963-73.