Post by shred on Jul 8, 2016 18:38:21 GMT
18th, 19th & 20th July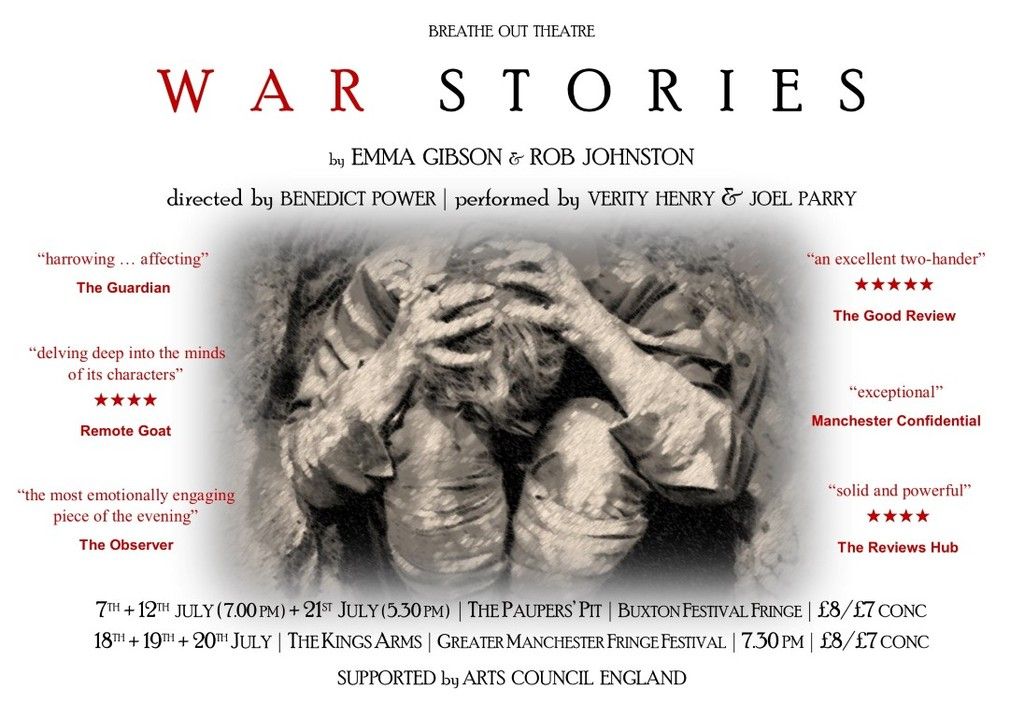 WAR STORIES - Breathe Out Theatre
Review:
It ought not to be the case but after the 1914 centenary events and those more recently for the Somme there is always the possibility that we develop a certain immunity to the horrors and tragedies of brutal and pointless conflict. However, this revival of a highly-acclaimed long-distance collaboration between Australian writer Emma Gibson and the British Rob Johnston is a valuable addition to the repertoire and the play should endure.

"War Stories" succeeds, in part, because it operates on a small scale, focusing on the histories of two people who are from opposite sides of the globe but who meet briefly. We learn something about their lives and families and the closeness we feel to them quickly binds us in.

Elsie (the excellent Verity Henry) grew up on an Australian sheep farm. She wanted to be a pirate or an explorer but girls couldn't do that - they had to be farmer's wives or nurses. "If I were a boy I'd shoot pistols and take lives - but instead I can save them." The war takes her to Cairo while her brothers and fiance go off to fight.

Bernard (Joel Parry is convincing here) is from Manchester and has enlisted. When first we meet him he is in isolation in a French military hospital suffering from memory loss. By now Elsie has made her way to Europe and is Bernard's nurse. Under her care Bernard comes to remember that he was a journalist on a Manchester newspaper and he asks for her help so that he can write again.

The play is partly about the importance of memory and story in our lives - they may be lost, returning, incomplete or freshly forming but we use them and need them to make sense of our present.

The play is a skillfully constructed mix of individual flashbacks and dialogues between Elsie and Bernard. Especially memorable is Elsie recounting how a ship she was on was torpedoed and sunk and the slaughter at Gallipoli.

The climax of the play comes as the two of them construct a new and terrible story.

"War Stories" is subtle and complex; it is beautifully written, compellingly acted and sensitively directed by Benedict Power. This already looks like being an outstanding Fringe and this will be one of the highlights.
Click here for tickets