Post by shred on Mar 30, 2013 13:23:18 GMT
Thanks to mack for pointing us towards this lad.
Ronald James Woodcock attested on the 10th May 1915 stating that he was 19 years of age (please note the address of 76 Elizabeth St, Salford):
The Salford Central Mission wrote to the Army in 1918 stating that Ronald was aged just 17. This means that Ronald was 14 when he attested in 1915.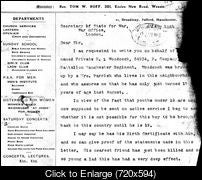 After trying to do a little research on Ronald I am totally confused.
Birth:
Name: Ronald James Woodcock
Date of Registration: Jul-Aug-Sep 1900
Registration district: Barton
Inferred County: Lancashire
Volume: 8c
1901 census:
Name: Ronald Woodcock
Age: 8 Months
Estimated Birth Year: abt 1900
Relation: Son
Father's Name: James Woodcock
Mother's name: Fanny Woodcock
Gender: Male
Where born: Patricroft, Lancashire, England
I cannot find a marriage for James and Fanny Woodcock
I was struggling to find Ronald in the 1911 census until I found the following entry(1911 Census for 76 Elizabeth St, Salford - see attestation above):
Name: James Ranuld Atterby (census reads James Ronald Atternby)
Age in 1911: 10
Estimated Birth Year: abt 1901
Relation to Head: Boarder
Gender: Male
Birth Place: Salford, Lancashire, England
Civil parish: Salford
County/Island: Lancashire
Country: England
Street Address: 76 Elizabeth Street Salford
Marital Status: Single
The letter from Salford Central Mission mentions a "Mrs Parish", Mrs Parish is living at 76 Elizabeth St in 1911. Also at the same address is Herbert Atterby:
John Parrish 58
Maria Parrish 57
Herbert Atterby 47
James Ranuld Atterby 10
Samuel Gibson 79
I am making a large presumption that Ronald James Woodcock and James Ronald Atterby are the same boy as I cannot find "Ronald James Woodcock", or his parents, in the 1911 census.
Now things get really complicated.
A Herbert Arthur Atterby married Fanny Cox in 1887:
Marriage: 28 Mar 1887 St Clement, Salford, Lancashire, England
Herbert Arthur Atterby - 23 Labourer Bachelor of 24 Chalfont Street (age is incorrect to be Herbert Atterby from the 1911 census, unless he lied).
Fanny Cox - 18 Spinster of 24 Chalfont Street
Groom's Father: Thomas Atterby, (deceased), Farmer
Bride's Father: William Cox, Labourer
Witness: Joseph Fletcher; Eliza Lyth, (X)
Married by Banns by: Richard Masheder
Register: Marriages 1886 - 1891, Page 45, Entry 90
Source: LDS Film 1786423
Herbert and Fanny had three children who all died in the year that they were born:
Sydney Harold Atterby abt 1898 Apr-May-Jun 1898 Salford Lancashire
Bertha Atterby abt 1901 Jul-Aug-Sep 1901 Salford Lancashire
Jessie Atterby abt 1902 Apr-May-Jun 1902 Salford Lancashire
Fanny Atterby died in 1903:
Fanny Atterby abt 1871 Oct-Nov-Dec 1903 Salford Lancashire
Now my wild theory:
I think that Fanny Cox is the same Fanny who is living with James Woodcock in the 1901 census. I cannot find a marriage for Fanny and James and the family cannot be traced in the 1911 census. Herbert Atternby is shown as married in the 1901 census but his wife is not shown on the census. Ronald is living with Herbert Atternby in the 1911 census and has taken his surname, but later attests as Ronald James Woodcock.
Can anyone make better sense of all this? Please feel free to blow my wild presumptions to bits.