Post by shred on Aug 20, 2016 15:18:22 GMT
Lieutenant Frederick Anthony Jemmett, Indian Armoured Corps. Stowell Street, Weaste, Salford.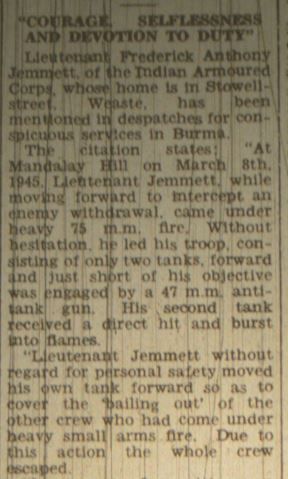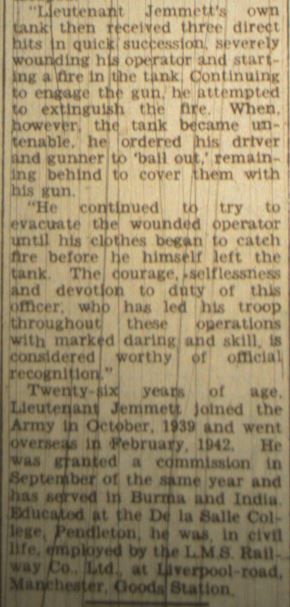 Frederick died on Friday 26th July 2013 aged 94.
TRIBUTES have been paid to a former Rhyl headteacher, community leader and war hero.

Frederick Anthony Jemmett, died on Friday, July 26, after a long battle with Alzheimer's disease aged 94.

He was headmaster of Ysgol Mair, between 1960 and 1984 and later represented the town as a county, borough and town councillor.

Daughter Barbara Jemmett, 40, now of Chester, but who grew up in Rhyl, said: "We are devastated by his loss, but we have so many happy memories.

"Dad was wonderful and was a devoted father and husband.

"He was generous with other people always doing things for them.

"He had a great sense of humour. Wherever he went he wanted to leave people laughing and with a smile on their face."

Mr Jemmett leaves behind his wife of 55 years, Joan, 78, daughters, Barbara and Kathryn, two grandchildren and three brothers.

Before coming to Rhyl in 1960, he taught at St John's Cathedral School, Salford, for 15 years and served as deputy headmaster.

Notable ex-students from the area include TV personality Carol Vorderman and MP Chris Ruane.

He served in the Second World War seeing action in France, North Africa and Burma, where he rose to the rank of Major, commanding Indian troops.

Barbara said: "He was mentioned in dispatches for his courage in tackling machine gun fire from the enemy in order to allow his men to escape from their tank when it came under attack.

"He was very proud of his service and his time as a headteacher.

"We are so proud of him.

"He was exceptionally brave but never boasted about his achievements."

Mr Jemmett was a lifelong supporter of Manchester United and attended his first game with his father as a child and was still attending every home game at the age of 90.

He received a thank you letter signed by Sir Alex Ferguson.

Barbara added: "He was respected and loved as a teacher.

"We've already received 60 condolence cards and countless messages on Facebook, the family would like to thank everyone who has passed on their condolences."

His funeral was held yesterday (Tuesday) at St Illtyd Roman Catholic Church, Rhuddlan.


link